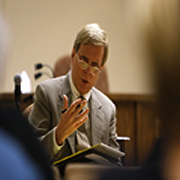 Colin Baenziger The Details
(561) 707-3537 (OFFICE)
(888) 635-2430 (FACSIMILE)
Colin@cb-asso.com

Education
B.A., majoring in Chemistry, Carleton College, Northfield, Minnesota

M.P.A. with Distinction, Johnson Graduate School of Management, Cornell University, Ithaca, New York



Professional
History
Colin Baenziger & Associates - Principal- 2002 to Present

Colin Baenziger & Asso. & Rachlin Cohen & Holtz - 1996 to 2002

Acme Improvement District and the Village of Wellington, 1993 - 1996

Consultant to the Recording Industry Association of America, 1991-1993

Agency for International Development - 1988-1989

District of Columbia, 1981 - 1988 and 1989 - 1991

National Economic Research Associates, 1979 - 1981

Alan K. McAdams Associates, 1975 - 1979



Professional and Civic
Affiliations
Member - International City County Management Association

Member - Florida City/County Management Association

Member - Leadership Palm Beach County

Member and Vice President - Board of Directors, ArtServe

Associate Member - Palm Beach County League of Cities

Associate Member - Dade City/County Managers' Association

Associate Member - Broward City/County Managers' Association



Publications
A Guide to Productive Improvement Projects in State and Local Governments



Speeches and Seminars
"Why Not the Best? A Practical Approach to Hiring a City Manager" presented to the Florida Public Personnel Association, July 1999.

"Council-Manager Relations," Florida League of Cities Conference, 2001

'Implementing and Surviving GASB 34/35", Keynote Speaker, 2001 and 2002 Seminars, the latter sponsored by the American Public Works Association.

Numerous lectures to groups considering forming new cities



Trial/Deposition Testimony
South Florida Water Management District v. Busbee, Wlkins & Sealy, Inc. et al. (eminent domain)

Wise v. Hieke, 15th Judicial Circuit before Judge Gary Von Hoff (marital)

United States vs. John Kennelly (eminent domain)

United States vs. Mills (eminent domain)



Litigation Support & Analysis
United States v. International Business Machines (antitrust)

Political Corruption Case in Miami-Dade County

Antitrust matters involving the following industries: telecommunications, alcoholic beverage sales, print media, commercial fishing, prefabricated buildings and banking



Range of Experience

Twenty years experience as an analyst and manager specializing litigation, operations analysis, accounting, systems design and implementation, strategic and operational planning, personnel studies and process review and documentation. His clients have ranged from local governments to the Fortune 500. He also has extensive experience preparing trial exhibits and testimony for litigation particularly in the areas of antitrust and eminent domain. Public relations and dealing with the media are other areas where he has demonstrated expertise.

Typical projects include:

Recruitment of City Managers for Destin, FL, Fife, WA, Greensboro, NC, Homestead, FL, Palm Coast, FL, and Roanoke, VA; of County Managers for Bay County, FL, Polk County, IA, St. Johns County, FL, and Union County, NC; of a Borough Manager for Matanuska-Susitna Borough, Alaska, and of a General Manager for Tampa Bay Water. Also an Economic Development Director for Loudoun County, VA, a Health and Human Services Director for St. Johns County, FL, and a Personal Director and a Director of Elections and Registrations for Fulton County, GA.

Team-teaching a financial management and operations seminar for community based organizations while under contract to the Florida Department of Health in five locations covering the State. Team-teaching a financial management and operations seminar for community based organizations while under contract to the Florida Department of Health in five locations covering the State.

A business practices review for the billing and customer service division within the Martin County government water and sewer utility group. The effort resulted in recommendations to improve technology, redesign work flows and a temporary increase in staffing.

A review of the methodology Nova Southeastern utilizes to allocate its central administrative costs among its educational departments. Found that while by and large that methodology was sound, he recommended a number of improvements in it.

For the District of Columbia, designed, implemented and supervised a program to ensure that the customer portion of the District's utility billing data base was complete and accurate. Found approximately one percent of the residents and businesses in the District was not included in the billing data base. The result was $6 million in one-time revenues and an additional $1.5 million in on-going annual revenues.

Reviewed the accounts payable function for a division of the Marriott Corporation. Made a series of recommendations designed to improve its efficiency and then wrote the policies and procedures manual for the function.

As part of a team, conducted a review of a significant portion the Port of Palm Beach's $100 million expansion project. Work involved reviewing the Port's policies and procedures associated with processing the payment requests as well as the requests themselves. The effort found that the Port's processes were sound and that payments were processed according to the established procedures.

Reviewed the form of government for the City of Lauderdale Lakes and recommended it change from the commission form to the city manager form. Followed-up by making recommendations to change the City's charter and conducting the search for the City's first manager.

Conducted an operational review of the City of Tamarac's Utilities Department. The effort resulted in recommendations to institute long range planning, to expedite the City's meter replacement program, to improve efficiency through improving technology and to reduce staff by approximately 10%.

For Palm Beach County, conducted a review of the disposition of impact fee waivers granted to Utility Development Company by the County's Water Utilities and Utility Development Corporation (UDC) to determine how many of the 29,405 waivers granted to UDC in the late 1970's and early 1980's had been utilized by 1998. The work found 29,402 waivers and saved the County as much as $20,000,000.

Prepared a feasibility study of the effects of a proposed deannexation of the oceanfront section of the Town of Manalapan.

Conducted contract compliance review of the lease between the County and Martin County Golf and Country Club. In the latter, he found that many provisions of the contract had not been followed and that payments to the County may have been insufficient. Recommendations involved improved contract monitoring and revising the contract to delete obsolete and unnecessary provisions.

Conducted strategic planning sessions for the Florida Association of Special Districts, the City of Lauderdale Lakes, the Ann Storck Center (a non-profit organization in Broward County dedicated to working with the mentally impaired) and the Loxahatchee Groves Water Control District.

Conducted a planning study of the fiscal impact on the City of Palm Beach Gardens of several development scenarios for its western-most 7,100 acres. The work resulted in a realistic assessment of what type of development would be required if the development was to "pay for itself" in terms of city services.

Oversaw financial aspects of the District of Columbia's occupational license and user fee programs (totaling some 17,500 charges and fees). As part of the work, developed a program to regularly update the fees and chargers and established a series of policies and procedures related to these updates.

Designed and implemented a local area networked based system to pay royalties to featured recording artists and record companies for the Recording Industry Association of America. Work involved defining user requirements, developing the functional and detailed design documents, overseeing the programming implementation and writing the user documentation.

Oversaw a $100 million fee and occupational license program for the District of Columbia. Standardized the review process and developed a schedule for the periodic review of all licenses and fees.

Served as Interim Village Manager for the new cities of Wellington and Islamorada during their start-up phases.